Young Buick GMC is holding a Buick funded fundraiser at Clearfield High School on November 1st from 10am to 6pm and WE NEED HELP!
Our goal at this event is to get 500 people to take a 7 to 10 minute test drive.  If we do this it will mean $10,000 for this high school paid by Buick!
On November 1st we would encourage everyone to participate in this event and bring friends and family to help hit this 500 number.  To qualify as a valid test drive the participant must be 21 or older and only 2 per house hold.  Please Think Young and Engage and Support our community by putting this in your calendar and bringing some friends and family out to this event.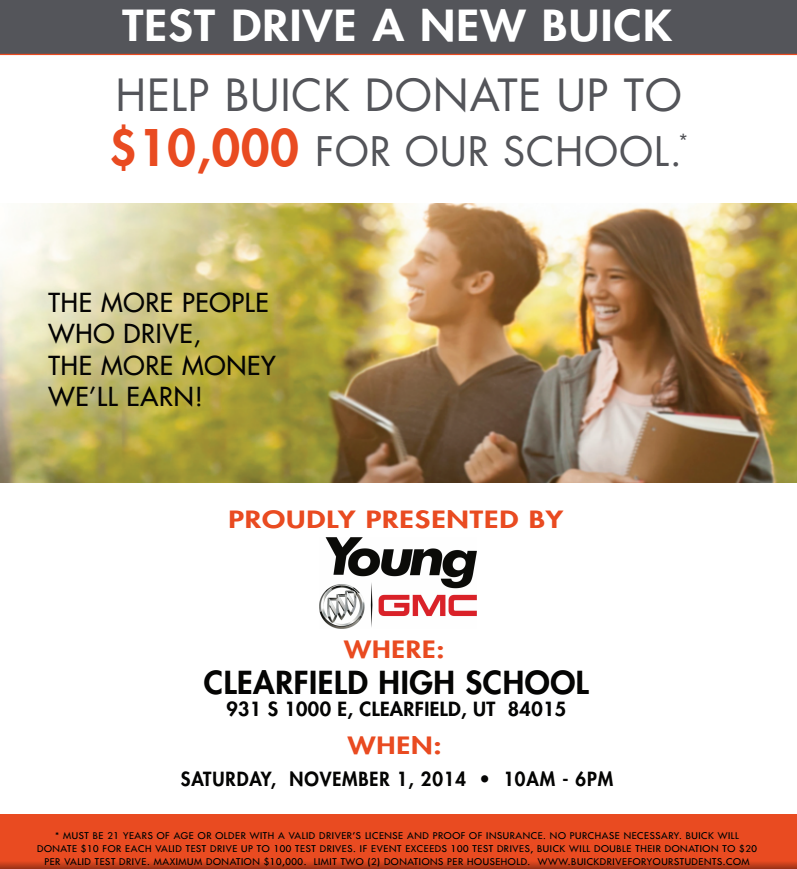 Also a couple other fundraisers and events that are coming up:
Oct 25th Young Chevrolet Trunk or Treat
Oct 25th Young Ford Dodge Trunk or Treat
Oct 25th Avis Car Sales Author Event and Trunk or Treat
Oct 25th Bonanza Motors Stuff the Bus event
Oct 30th Young Auto Mall Trunk or Treat
Everybody is welcome at these events.  Come bring your kids pick up some candy and with every coloring contest entry turned in Young Automotive is donating $5 to the local School Foundation!