Come down Wednesday, May 11th from 9AM-5PM for the LAST DAY of Indian Motorcycle Demo Days at Young Powersports Bountiful/Bonneville Indian Motorcycle! If you have been interested in purchasing an Indian Motorcycle, but are unsure which bike is best for you, this event is an excellent opportunity to test ride and compare each model side by side. Bring your family & friends for free demo test rides on Indian Motorcycles, food, drinks, prizes, music, and more!
Where:
Young Powersports Bountiful/Bonneville Indian Motorcycle: 601 W. 900 S. Bountiful, UT 84010
When:
Wednesday, May 11th, 2022
101.5 FM 'The Eagle' will there from 11AM-1PM and the Breaking Bread food truck will be there from 11AM-2PM
Bonneville Indian Motorcycle is one of the only two Indian Motorcycle Dealerships in the state of Utah. Young Powersports Bountiful is inviting everyone, far and wide, to join them for a family friendly event that will allow guests the opportunity to preview and test ride the latest Indian Motorcycles. The Indian Motorcycle rep will also be there to answer questions about the brand and bikes!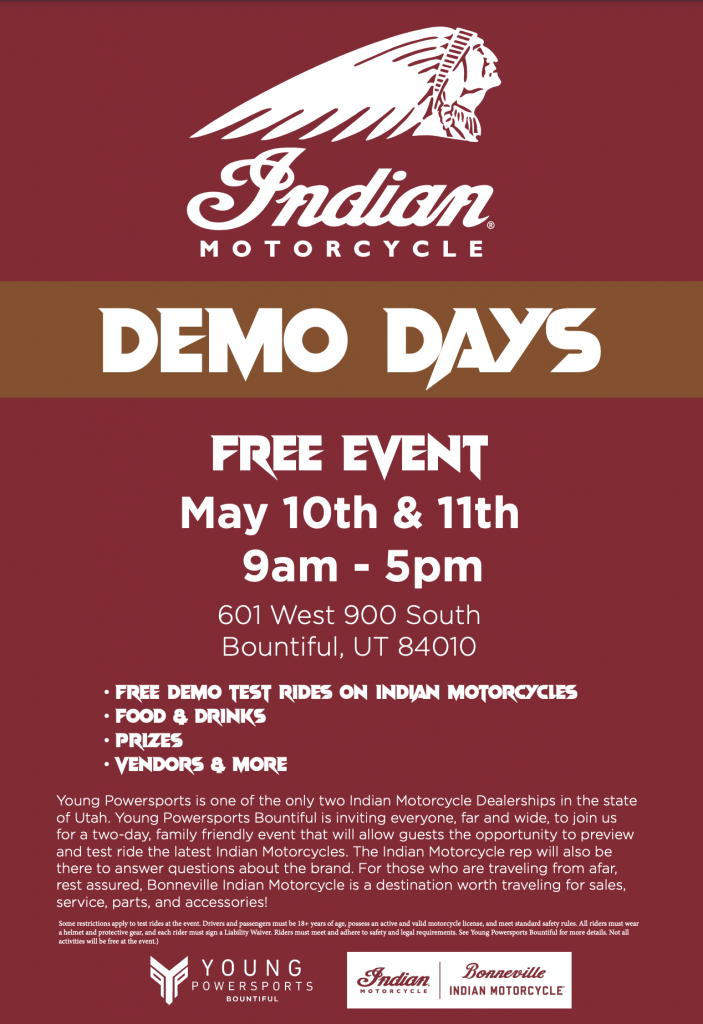 *Some restrictions apply to test rides at the event. Drivers and passengers must be 18+ years of age, possess an active and valid motorcycle license, and meet standard safety rules. All riders must wear a helmet and protective gear, and each rider must sign a Liability Waiver. Riders must meet and adhere to safety and legal requirements. See Young Powersports Bountiful for more details. Not all activities will be free at the event.