School's out for summer! Thank you to our customers, employees, and partners for supporting Young Caring for Our Young. You are making a huge difference in your community — keep up the amazing work!
Here's a look back at the last sixty days of Young Caring for Our Young: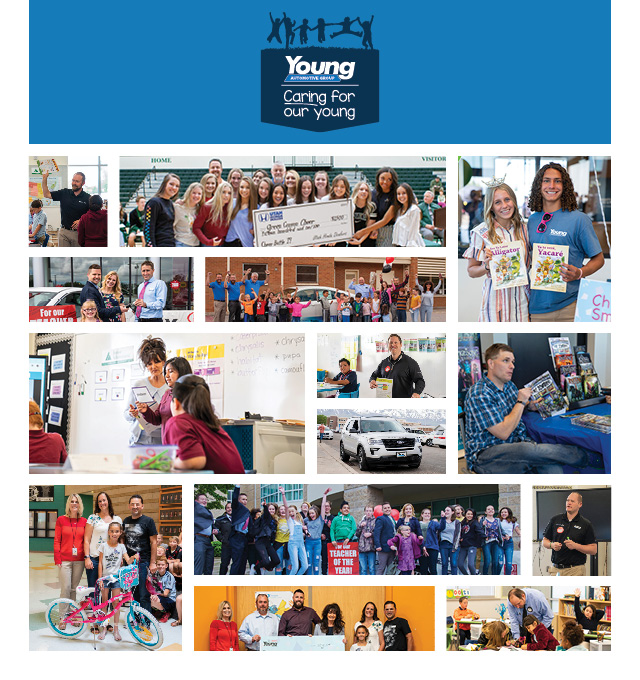 Young Buick GMC: Spring into Literacy
Young Buick GMC's annual Spring into Literacy event was a huge success this year! The event benefitted the Davis Education Foundation, and featured free books, book signings with local authors, face painting, balloon art, and more. Thank you to those who volunteered, attended, and helped support this event. We can't wait for next year!
Young Honda: Logan City School District Teacher of the Year
Young Honda and Young Caring for Our Young were thrilled to present a brand new car to Mrs. Andrea Milnick, the Logan City School District Teacher of the Year. Mrs. Milnick teaches kindergarten at Hillcrest Elementary, and she is an amazing teacher who is truly making a difference! Thank you Mrs. Milnick for your hard work and dedication!
Young Subaru: "Sharing the Love" with A New Dawn
Because we have such fantastic customers and employees, Young Subaru was able to donate $29,101.00 to A New Dawn – a non-profit organization that assists women and children in recovery from domestic violence and substance abuse. They do incredible work in the community, and they're truly making a difference in the lives of women and children.
Young Ford Morgan: Drive 4 UR School
Our Ford Drive 4 UR School event was a great success! In spite of tornado-strength winds, the community came out in force to test drive Fords and raise money for Morgan High School. We were able to far exceed the amount we raised last year. Thanks to our community, educators, staff and Morgan High students for making this event a success!
Young Hyundai, Young Mazda, and Young Subaru: Junior Achievement
YAG and Young Caring for Our Young continue to give back in big ways! Ten YAG employees, including General Managers and Department Managers, volunteered to teach ten New Bridge Elementary School classes on subjects such as financial literacy, our local and global economy, our community, and entrepreneurialism.
Young Subaru: Donation to South Ogden Jr. High
Young Subaru and Young Caring for Our Young ended the school year in a big way! We presented South Ogden Jr. High with a $2500 check, and gave an iPad to one lucky student – Alimasi Mbobci. We're excited to be able to give back to our community, and we're grateful to our amazing customers, employees and partners for making it possible.
Young Honda: Green Canyon High School Cheer Team Sponsorship
Young Honda just keeps giving back in Logan! We were happy to present $1,500 to the Green Canyon High Cheer Squad as part of our Utah Honda Dealers "Cheer Battle 19."
We love giving back to our communities, and we're able to do so because of our great customers, employees and manufacturers. Let's keep it up!!