Young Powersports is offering customers to win a new 2022 Kayo TD 125 when they shop online or submit a "Contact Us" form. For every $10 spent on the new Powersports parts & accessories store, customers will receive one additional entry to the giveaway.* Young Automotive Group employees, while not eligible to win the Kayo giveaway, can still receive up to 30% off their YoungPowersports.com purchase with the code YAG30 at checkout.
Help us spread the word of this giveaway online by posting it to your Facebook or Instagram page. The YAG employee with the most likes on their post, wins their choice of either a $500 Young Powersports gift card OR $250 cash. Publish a PUBLIC post about the Young Powersports "Kayo giveaway" on the e-commerce site. The post must include the Young Powersports e-commerce website: www.youngpowersports.com and #rideyoung.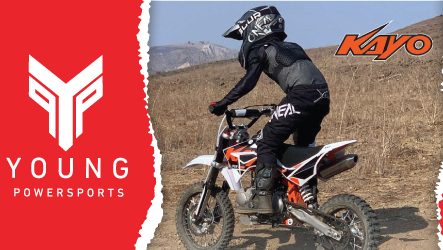 **No limit on entries. The winner will be announced June 18, 2022. See dealer for details!